Members of our Emerging Leaders Cabinet directed $26,000 in grants from Southwest Initiative Foundation (SWIF) to communities across southwest Minnesota this summer. The cabinet is a committee of our board that offers members an opportunity to influence positive change through activities including grantmaking. The recent grants include:
Christian Community Outreach Center (CCOC) in Olivia received $6,000 for "Promoting Reading and Being a Good Citizen," a project supporting academic improvement for at-risk youth and promoting positive behavior. Rob Thurston and Susie Lang recommended the grant, which will help supply age-appropriate chapter books for kids in the Reader's Club and a new reading area. The grant will also fund incentives for kids who meet expectations set out for them each day at the CCOC, encouraging the youth to be responsible for their actions and make good decisions. (Photo credit Scott Tedrick.)
Junior Achievement of the Upper Midwest received $3,000 for financial literacy, college and career readiness and entrepreneurship education to students in the Worthington School District, grades K-9. Jordan Huisken recommended the funding for Junior Achievement curriculum, which empowers students to make a connection between what they learn in school and how it can be applied in the real world – enhancing the relevance of their classroom learning and increasing their understanding of the value of staying in school.
New London-Spicer Schools received $3,000 for its "Digital Citizenship" project to help parents and children navigate in a digital age. Chasity Ommodt recommended the grant award to support three events over the course of two school years to equip parents and caregivers with techniques and strategies for responsible use of social media and technology.
Project Uniting Southwest Hmong (PUSH) received $3,000 for its effort to design a creative and sustainable building that will house the Community Cultural Center. Sarah Kicmal recommended the funding for the project, which is meant to empower the Hmong community to embrace the strengths of their culture through revitalization, education and mentorship. The center would be open to all who wish to engage and learn more about the Hmong language, arts, music, food and culture in the Tracy and Walnut Grove area.
"(Project Uniting Southwest Hmong) is made up of a group of individuals seeking to make a change within the community and empower our community to embrace the strengths of our cultures by a means of revitalizing, educating and leadership mentoring. Through this, we hope that we may create a space for positive relationship building and strong partnerships. We are excited to see what is to come of this initiative and are hopeful that it will shape the way our communities respond and connect with each other."
Khou Lor, PUSH committee leader
Pictured are Pablo Obregón, SWIF Community Engagement Officer; Kou Thao and Khou Lor with PUSH; and Sarah Kicmal, SWIF Emerging Leaders Cabinet.
Splash'n Jackson received $3,000 to help build a splash pad that provides fun, free and safe summertime entertainment for all ages in Jackson. Chant Singvongsa, recommended the funding for the splash pad to be located in Jackson's Memorial Park, the water feature will promote healthier lifestyles, provide a learning environment to strengthen developmental skills and augment social skills by engaging family, friends, neighbors and visitors in a physically fun atmosphere.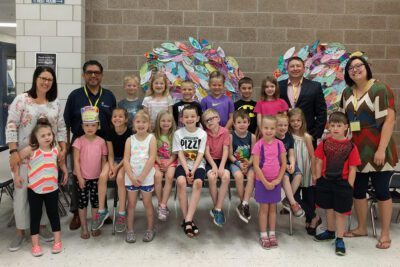 West Elementary School in Hutchinson received $6,000 for "West's Balanced Literacy – Reading Well by Grade Three," a project to build and foster reading and writing skills for students. Don Martinez and Karlie Mosher recommended the grant, which will help West Elementary purchase books, audio books and downloadable materials, word work games/materials for a Pre-K through 1st grade balanced literacy classroom. In a balanced literacy classroom, students follow a routine and take ownership of their independent learning rotation while the teacher is working with a small group of students. "Reading is something that is near and dear to me and I am so happy that we could help West Elementary with this grant through the generosity of SWIF and all donors," Don said.
Willmar School District received $2,000 to help purchase training equipment for the high school boys soccer program as well as covering some costs for personal equipment for students such as cleats and uniforms. Robert Valdez recommended the grant to support the more than 60 percent of players on the Willmar High School soccer teams who receive free or reduced lunch. These families often cannot afford to purchase equipment on top of the activity fees they already struggle to pay.
Emerging Leaders Cabinet members help SWIF explore current realities and trends in the region. Learn more about our Emerging Leaders Cabinet.